Ana Ventura Illustration Essay
and we're back for another local markets' feature! this has been the longest feature on the blog i believe! we will reach 100 artists soon! today i'm actually featuring someone whose work i've had the pleasure of seeing on an exhibition here in lisbon! this artist was actually there along with camilla engman, as both hosted an exhibition called "distant friends". i was however too shy to introduce myself… the usual! so as you already saw by the title, our guest today is ana ventura, a visual artist living and working in lisbon.
"a degree in painting from the lisbon school of fine-arts was never going to be enough for a someone creative like ana ventura. and so, with support from the erasmus program, in 1999 she took a course in printmaking, illustration and painting at the école supérieure d'art visuel la cambre, in brussels. she is a multi-facetted illustrator and artist, and her unique style is found in a wide variety of media, from illustrated adhesive tape to paper dolls, from book markers to decorative wall stickers, from postcards to clothes and accessories."
what seduces me more in ana's work has to do with the beautiful details and soft colours she uses. the details reveal some approach to all things natural,  as many of her traces represent tiny bushes, leaves and trees. actually the colours she uses can often be found in nature, such as the yellow, green and brown. the characters she draws come from her imaginary world to which we travel, once we lay our eyes on her art. i don't think it's possible not to make up stories in our heads, once we see the characters she draws. from their gestures and facial expressions, it's possible to imagine what they think, what they say and a whole story behind it!
when i visited ana's and camilla's exhibition "distant friends" there were several envelopes that were used by both of the ladies to exchange their mail and they were so interesting, as they were fully written with messages and drawings by both. i always remember of their envelopes when i send one, because as we often leave the outside part as a place to write postal addresses, names and not much, their imagination in such a random object as an envelope left me amazed. i guess that this might be a difference between artists and those who are not that creative – you can create something special with about anything you see.
"she has had solo and group exhibitions in portugal and abroad since 1996, and her most internationally recognized project has been her personalized all star sneakers for the centenary of converse in 2008. she regularly teaches in art workshops to those who are interested in discovering their creative voice. she is an artist at the gallery of the portuguese centre for silkscreen-printing (centro português de serigrafia-CPS); this was a technique that she used in the illustrations for the book "nove storie sull'amore", the originals of which were exhibited in italy, spain and germany."
as you can see, ana's work has been featured in several art galleries across europe, which is actually something that i feel so proud of. we don't hear much about visual artists whose work is featured abroad or we usually hear the same names over and over again. so it's good to know that there are other artists that are being appreciated over our borders. go ahead and browse through ana's work and find an admirable new world!
website // blog // facebook
4
Constance Ørbeck-Nilssen is a Norwegian children's book author who studied journalism, pedagogy, literature and art history, and worked as a journalist and teacher. Ana Ventura is a Portuguese illustrator and artist who studied printmaking, illustration and painting, and now illustrates for books, clothing, and many other things.
In this post, Constance and Ana talk about their collaboration on 'Tankene lager ingen lyder' (Thoughts make no noise). This poetic and beautifully illustrated picturebook is intended for older children and adults who work with children. It's published by Magikon Forlag.
See Constance Ørbeck-Nilssen's books
Visit Ana Ventura's website
Constance: 'Thoughts make no noise' represents a deep and important cooperation between myself and the illustrator, Ana Ventura. Together, we invite people representing all aspects of life to join us on a journey through a little girl's eyes, hereby highlighting a problem that touches us all. Thanks to Ana's vulnerable and symbolic approach, her poetic illustrations manage to capture the story of the little girl, Shi, and make her story larger than life.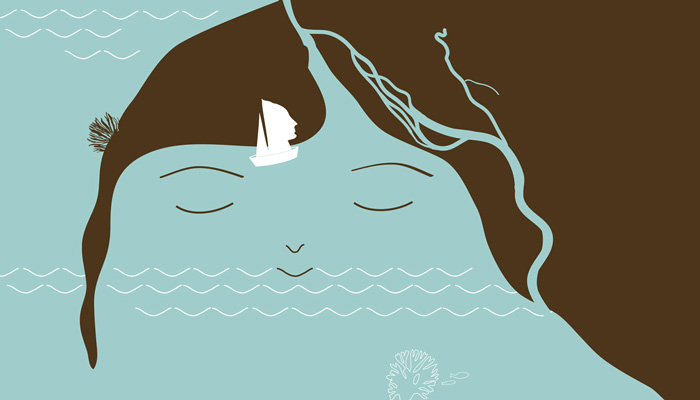 Through every illustration, Ana communicates a story about a girl who becomes separated from the safe and predictable family life with her mum and dad. The illustrations change expression when Shi's father dies, showing a journey of contrasts: from light to dark, from strength to weakness and from nearness to distance, all describing the strong influence of her father's death on her life.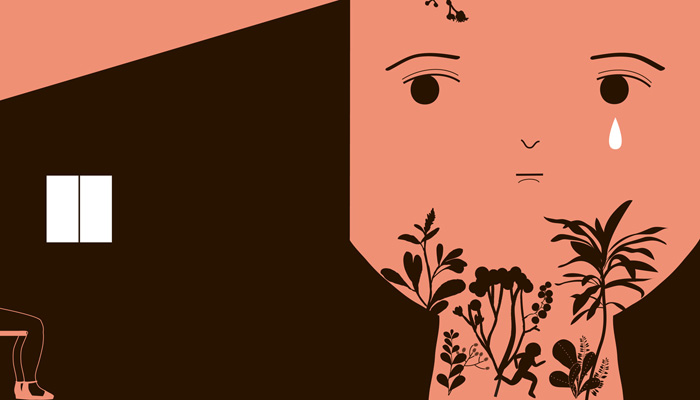 But through every image there is always a drift of light and hope. Life is a process, an eternal nature that never takes shortcuts. If you stick to your path, you will find your way.
The challenges make Shi forget her age and position, and she becomes the 'adult' who helps her mother. She comforts and supports her beyond what is expected of a girl at her age. One day, Shi's mother disappears. Shi is left alone and has to move to another family. This event alters the direction of her life radically.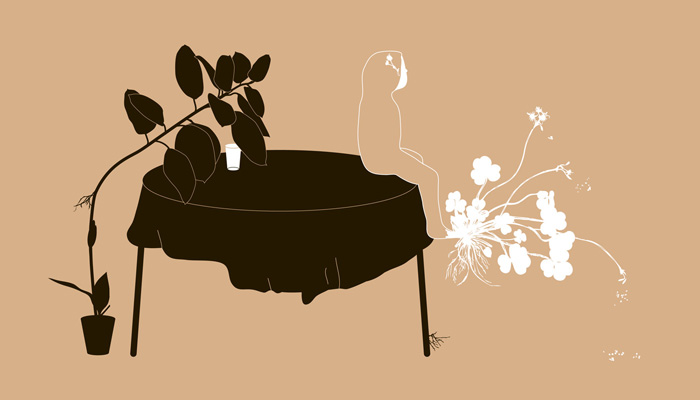 Thank you, Ana, for bringing my story to life.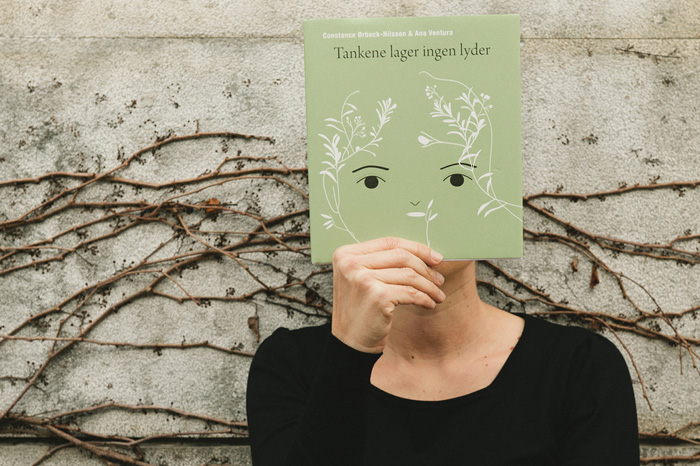 Ana: Having the chance to illustrate the words of Constance was a pure delight.
The story is very beautiful and full of sad poetry. Svein, the publisher at Magikon Forlag, thought that my illustrations could bring some light to the book, and so, with commitment and satisfaction, I accepted his invitation.
My main concern was how to illustrate the feelings of the story's characters in order to show what Shi felt at all the different moments throughout the story. The text is so beautiful that it made me want to illustrate more and more pages. One of the main sources of inspiration I use are pictures of plants and roots, either taken by me outside with my camera or from Tumblr. Browsing my Tumblr account, you'll get a glimpse of how the process was initiated.
In the following illustration, we can see Shi's mother's hair. Shi combed it, treated her lovingly, but it was hard work, complicated and delicate. A lonely place where the unfolding plot was always disastrous.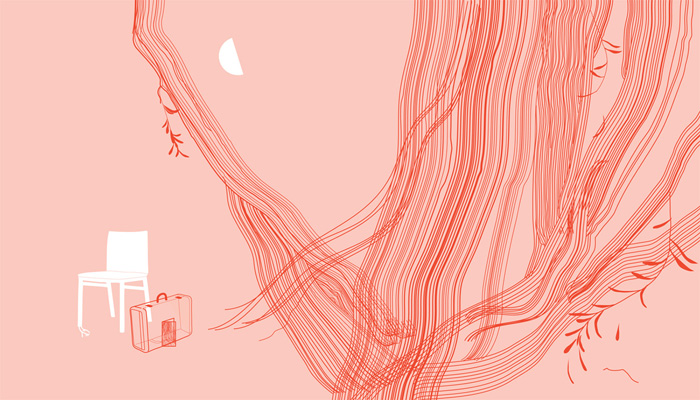 The next picture illustrates the peace and tranquility that Shi feels while thinking about her father. Shi has few memories of him, but the hat he wore is one of the strongest and most present memories in her mind. A hat/nest that welcomes and protects her.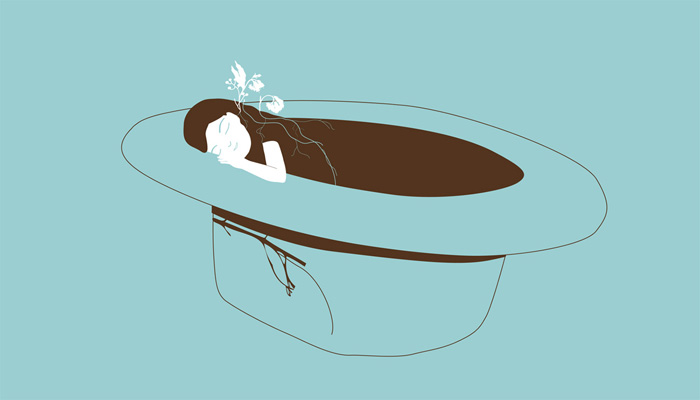 Two worlds in one life, in one home. Two separate times… two hemispheres.
This picture – with trees, branches and a house – is like a brain with two hemispheres. The left side corresponds to the past: flowery and happy. The right hemisphere belongs to the future: wintry, sad, and collapsing. Shi lives in-between these two worlds. Between the strong and heavy presence of her mother and the ethereal and light presence of her father.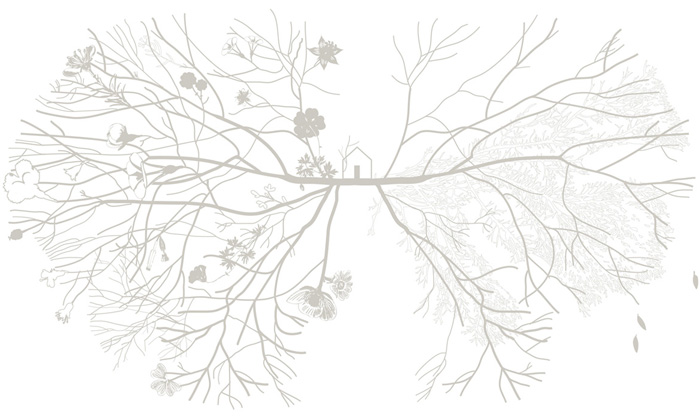 The space where Shi can still see and feel her father is in her garage, in the car…
Once again, I wanted to illustrate her deep feelings more than the place itself. I recalled the feeling we get when we walk into a garden or a forest: The intense smell of the plants, earth, dust, or when you stick your nose into a flower and you are overwhelmed by the soft smell. I personified the father in a scent that emanates his image and surrounds his daughter.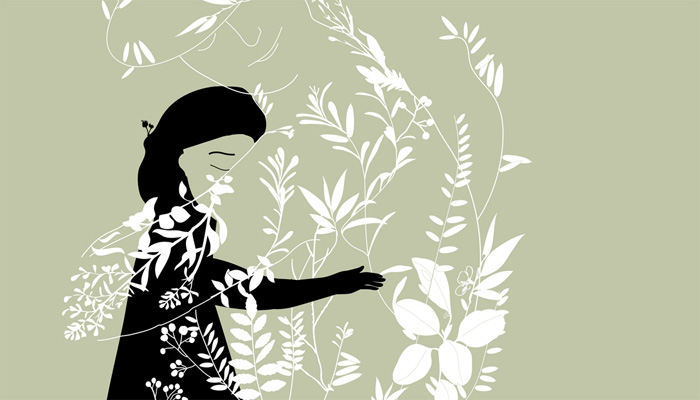 The decline and depression of Shi's mother: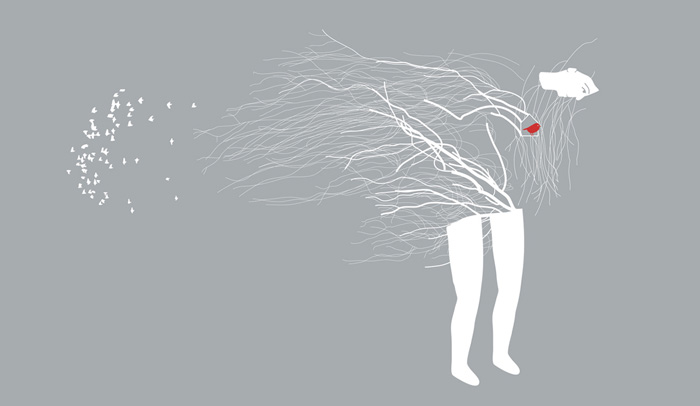 I built the image of Shi's mother from two images donated by Paula Valentim.

The memory of Shi's father: The comb lines continue as hairs that form the silhouette of the father; it's not a very defined silhouette, but it's present.
A cage with butterflies, inside Shi's chest: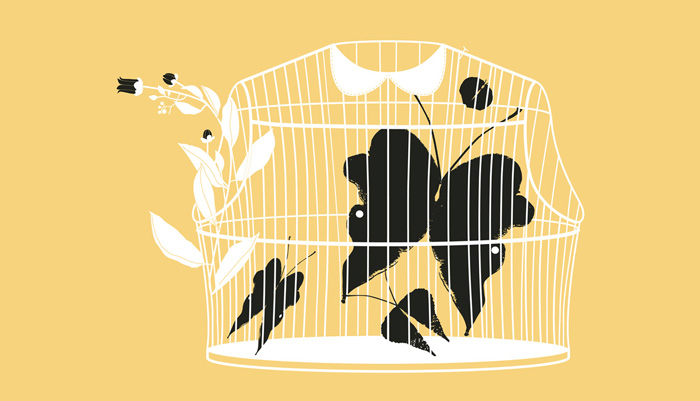 This is how I draw butterflies – from my herbarium collection: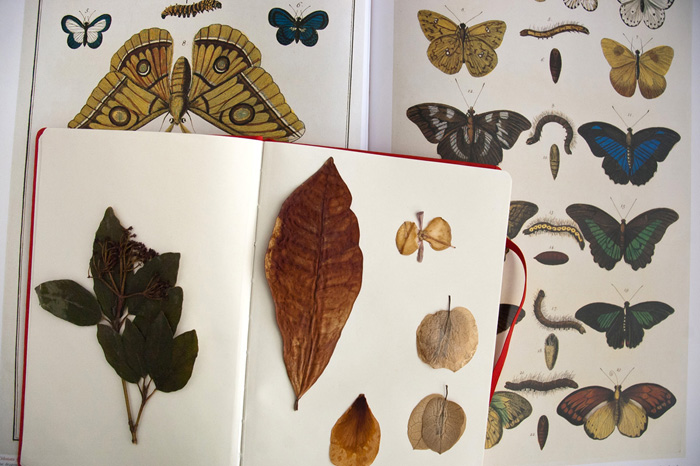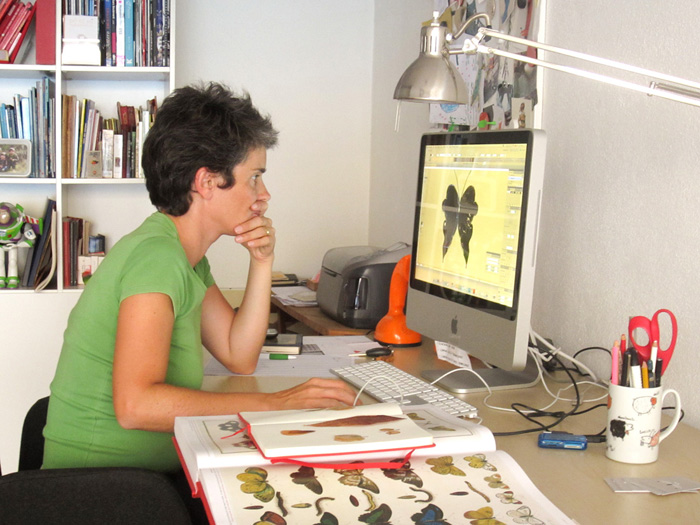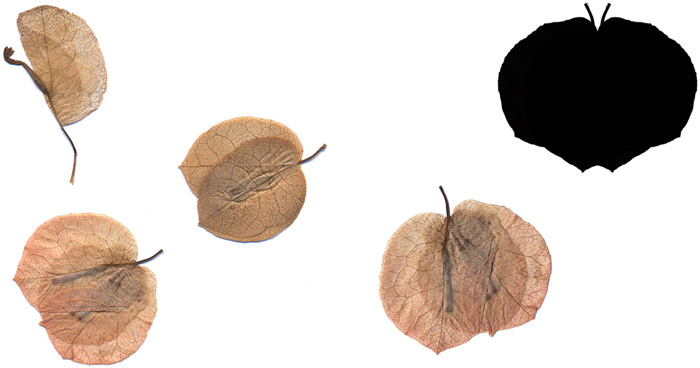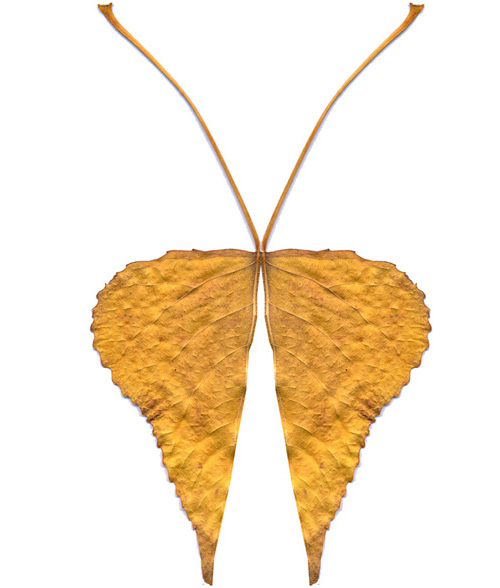 The girl as a forlorn house: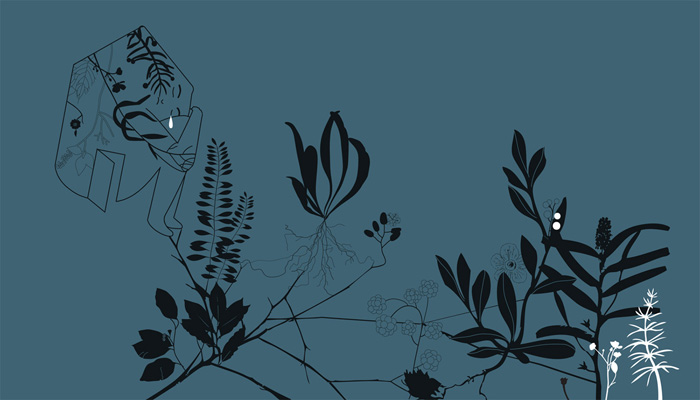 A happy ending for the story: A new house and a new family where Shi will plant roots and have a better life.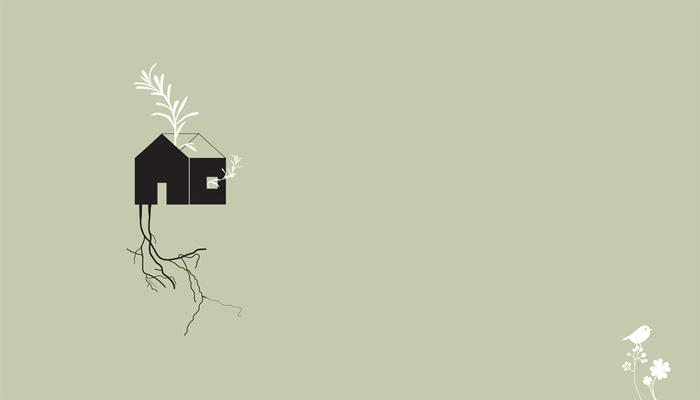 Illustrations © Ana Ventura. Post translated by Gengo and edited by dPICTUS.